"Sgt. Mihajlo Petrovic" YUModelClub is an organization of modelers dedicated to sharing and advancing the hobby with anyone interested in building plastic models. Our club members represent all aspects of plastic modeling. Most members currently build aircraft, but builders of ships, figures, armor, cars and sci-fi builders are members of our group. Our club members represent a broad spectrum of modeling interests, including aircraft, ships, armor, sci-fi, figures, collecting, photography and research. We also have members who are national judges, national head judges and FineScale Modeler writers. Several of our members have placed at the national level and are willing to help you build better models any way they can.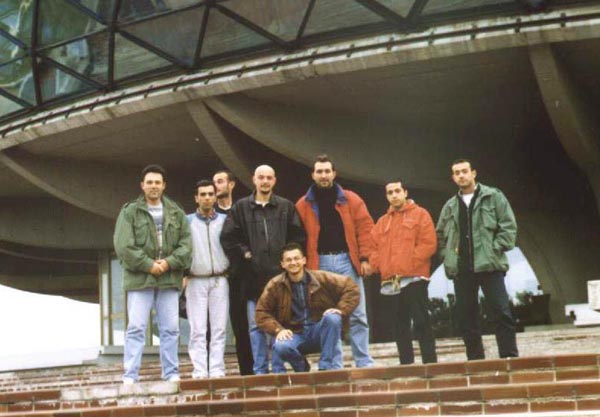 Members of " Sgt. Mihajlo Petrovic" YUModelClub in front of Yugoslav Aeronautical museum
MEETINGS:
"Sgt. Mihajlo Petrovic" YUModelClub meets the every Wensday at 19:00 at the cafe "17". Our meetings are designed to provide a high degree of information exchange on the hobby. Members help each other with tips, techniques and new wrinkles they experience with their models. NO ONE will criticize your work unless you specifically ask for it. We encourage everyone to bring built models as well as models under construction (techniques are easier to explain this way). New members find their modeling skills improve quickly with the discussions and instructional programs we have at each meeting. Programs include slide shows of models from regional, local and national contests. Demonstrations showing techniques and tips used on members models with discussion on history and markings are usual fare at our meetings. Some programs are presented to give real world background to the hobby, such as occasional guest speakers and Visitors are encouraged to attend and bring models. You are not required to be a member to attend meetings but membership is encouraged.
Each year "Sgt. Mihajlo Petrovic" YUModelClub hosts model contest. This contest is well attended by modelers all over the state as well as out-of-state modelers. It provides not only a full-scale contest, but also gives our members the "feel" of regional and national contests. Up to 100 models have been entered in past model contests.