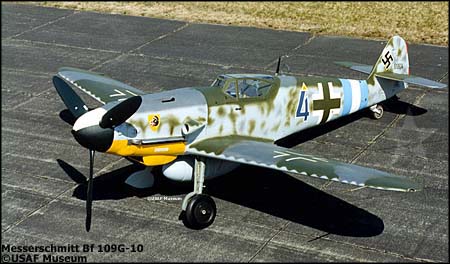 Messerschmitt Me-109 G-10/U4. Wk. Nr. 610824. Civil Registration: N109MS.
Remanufactured from a G-6 fuselage (wk. nr. unknown) in 1944 by WNF. Known as "Black 2" of II/ JG 52. Surrendered at Neuibiberg, near Munich in the group's en masse retreat to escape Soviet forces.
This machine was one of three Me-109 G-10s taken to the U.S. by Capt. Fred McIntosh, in charge of collecting piston engined aircraft for "Watson's Whizzer's".
After test flying, it was found not to be airworthy and made its journey to Cherbourg by truck, it was then loaded on the aircraft carrier H.M.S. Reaper along with many other captured Luftwaffe aircraft and left port on July 19, 1945. 12 days later it arrived at pier 14 in New York Harbor, it was trucked to Newark, New Jersey and finally arrived at Freeman Field near Seymour, Indiana on May 17, 1946.
The aircraft was given a rather spurious paint scheme and the code: FE-124, this was changed later to: T2-124 when the Air Technical Service Command underwent re-organization and the Technical Data Laboratory Branch became part of T-2 Intelligence.
610824 was not used for research, but instead became a display aircraft in the early post war era touring various airbases. One of the last being Dobbins Army Air Base near Marietta, Georgia and was on display there with T2-118, a Focke Wulf Fw-190 D-13/ R 11.*
With the end of World War Two, non-critical facilities like Freeman Field, which was being used to store surplus Axis equipment were being closed down and aircraft that weren't earmarked for museums were to be scrapped. This probably would have been the fate of T2-124 and T2-118 had it not been for the interest of Professor Donnell W. Dutton at the Georgia Institute of Technology in Atlanta. In 1947, T2-124 and T2-118 were donated to Georgia Tech. The two airframes were not used officially by Georgia Tech. For research or evaluation, but were placed in storage for later display by the school's nine member flying club.
Sometime around 1955, Bud Weaver, an FAA inspector in Atlanta traded a working aero engine for the two aircraft. They were then stored out in the open at various rental properties owned by Mr. Weaver and soon became derelict due to vandals and exposure to the elements.
It was at this time that 610824 lost its original wings. Someone had the local Trash Company haul it off to the dump! Mr. Weaver arrived in time to retrieve the fuselage, but it was too late to save the wings. If anything good could have happened from all this, then at least the weather had worn off the spurious paint job to reveal the original markings on what was left of the airframe.
In the mid-1960s T2-124 and T2-118 parted company as John W. Caler of Sun Valley, California Valley purchased the remains of the Me-109. His intentions were to restore the aircraft (in his own garage!) and he was able to obtain a set of wings from a Czech Avia. He reportedly tried to re-skin the fuselage and because of a lack of proper tools and expertise, the results were not a professional looking job. This is supposed to be a clue to 610824's identity.
This project was eventually abandoned and the airframe sold to an unknown private collector, date unknown at this time.
Somewhere between 1979 and 1984 it was sold to Doug Arnold's Warbirds of Great Britain Collection and placed in storage at his Biggin Hill facility to eventually become a stable mate with our other Me-109 G-10, wk. nr. 610937. Some restoration work may have been carried out but cannot be confirmed.
In 1989 it was sold to Evergreen Ventures and restored to static display condition by Vintage Aircraft Restorations LTD. of Ft. Collins, Colorado. Depending on which source you want to go by, restoration work was completed in 1995-1997. Since April 1, 1999, 610824 has been on display at The United States Air Force Museum at Wright-Patterson AFB in Dayton, Ohio as "Blue 4" of JG 300.
An interesting side note here: As Freeman Field was a subsidiary of what was then known as Wright Field, it would seem that 610824 has traveled full circle since its arrival in the U.S. in 1946.
*For the full story of the Fw-190 D-13/ R 11 known as T2-118 read: Eagle Files #2, Yellow 10, by Jerry Crandall.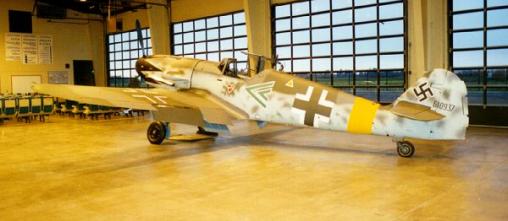 Messerschmitt Me-109 G-10/ U4 wk. nr. 610937. Civil registration: N109EV.
Built in the summer of 1944 as a G-14 wk. nr. 127914, it was later rebuilt as a G-10/ U4 Jabo Rei (long range fighter-bomber) by WNF.
Abandoned at Zeltweg Airfield in Austria at the end of the war. Its original identity will probably never be known. It could have been from a Luftwaffe unit or just as likely a Hungarian one as both countries were using this airfield at the time.
Somewhere between May and August 1945, 610937 and many other aircraft were taken as trophies by units from the 6th Polk, (regiment) of the Bulgarian Air Force and ferried to Bulgaria. The trip must have been a harrowing one to say the least. The airfield was situated between the British and Soviet zones of occupation and the aircraft had to fly through the British zone. The English reacted by sending a protest to the Soviet Command to "stop flying German planes in their zone." Two Spitfires were dispatched to patrol the area and anti-aircraft units occasionally opened fire on these "trophies" with at least three of them reported to have been shot down.
The next stop was Pech Airfield in Hungary, where the Hungarians rushed the field thinking that they were welcoming their pilots returning home. They had a rather unpleasant surprise seeing that the aircraft were piloted by the Bulgarians.
After a stop in Belgrade, they finally reached Sophia. Not much is known about the service history of these Bulgarian Me-109s. Many were transferred from the Karlovo Airfield to the Burshen Airfield near Silven and were actively flown by the 2nd and 3rd Orlyak (group) of the 6th Polk until they converted to the Soviet built Yak-9. Some of these Me-109s served in the training role as late as 1950, with the last of them being cut into scrap metal in 1951.
In 1947, the Paris Peace Treaty limited the size of Bulgaria's Air Force and some of its excess aircraft were sent to Yugoslavia in military equipment trade negotiations between the two countries. 610937 became part of a shipment of 59 Me-109s of assorted variants to be traded for a number of fuselages and tail units of Il-2 Strumoviks.
After being transported to Zagreb by rail, the aircraft were refurbished, repainted and 610937 became "White 44", Yugoslav Air Force s/n 9644. White 44 was flown by either the 83rd or 172nd fighter wing based at Cerklje Airfield and may have been flown on patrol sorties along the Italian frontier during the confrontation between Yugoslavia and Italy over the free zone of Trieste. White 44's last recorded flight was October 17, 1950. Total flight time in service: 35 hrs. 15 mins.
The aircraft was placed in storage until 1953, when it was declared scrapped and donated to a technical school known as the Machine Facility in Belgrade. It was used as an instructional airframe until somewhere between 1977 and 1979 when it was transferred to the Yugoslav Aviation Museum in Belgrade. Apparently the museum didn't have the funds to restore the airframe and in 1984, it was sold to Doug Arnold's Warbirds of Great Britain Collection. Some restoration work may have been carried out, but as with 610824, is un-confirmed.
In 1989, it was sold along with 610824, to Evergreen Ventures and in 1991 it was sent to Vintage Aircraft Restorations LTD. at Ft. Collins, Colorado where after 5 years it was restored to flight-worthy condition. It was painted to represent an aircraft flown by Germany's leading ace, Eric Hartman and is on display in preserved condition (fluids drained) at the Captain Michael King Smith Evergreen Aviation Educational Institute in McMinnville, Oregon.